California based female quintet Precious Metal (1983-1992) made quite a name for themselves in the predominately male dominated rock scene of LA's Sunset Strip during their 9-year tenure. Together the fearsome five fought the establishment combining glam/rock/pop into a perfect meld of top-tier melodic rock anthems, all while adding their own blend of attitude, hard rock style and of course a dose of glamour. Precious Metal's well-crafted edgy melodic metal/pop rock proved a successful mix and live the five fem-fatales more than delivered.
Founding member and original drummer Susette Andres (23) placed ads in various Los Angeles trade magazines looking to form an all-female rock outfit. Rhythm and lead guitarist Mara Fox (19) answered, and she and Susette joined forces to name the band and recruit Alex Rylance (25) on bass, Janet Robin (17) (Lead Guitar) and front-woman Leslie Knauer (26) (Vocals) to complete the bands original line-up. Leslie had previously received international success with her first band "Promises" in the late 70s', who's driving pop song "Baby It's You," had soared to the number one spot in Australia and dominated the charts in Europe. After forming, the band was invited to contribute three songs for a soundtrack to the movie "American Drive-In." However, six months after their inception creative differences led to Susette Andres departing and Carol M. Control (26) replacing her on drums.
It wasn't long before the girls were honing their trademark sound playing LA's clubs and receiving rave reviews for their professionalism and musicianship. Word of mouth followed and garnering interest from LA DJ's like Rodney Bingenheimer and Eddie X, both whom started featuring the bands demos on their radio shows. A chance hearing by then Polygram/Mercury Records Vice-President Russ Reagan of "Girls Night Out", (Featured on Eddie X's show) in his car led him to signing the band in early 1985.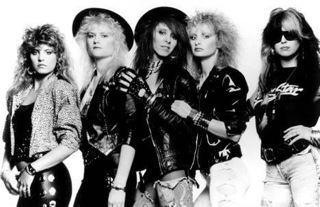 Also signed to a production deal with producer Paul Sabu, Precious Metal's first album "Right Here, Right Now," (Mercury/Polygram) was recorded over the fall of 1985 with Sabu at the helm and saw a January 1986 release. "Cheesecake" a signature song from the bands live set, was chosen to be the first single, but the was soon overshadowed when another song "Bad Guys" found it's way onto the soundtrack of a movie of the same name. A music video was produced for "Bad Guys" and received much-attention on MTV's Headbangers Ball and later VH1, while the movie featured a cameo by the band during its end-credits. Another appearance in "Scenes From A Goldmine" followed, featuring the bands rendition of the 60s' classic "Twist & Shout." The following year popular Dutch outfit "The Dolly Dots" would follow in Precious Metal's footsteps with a cover of their song "This Girl" and a performance cameo in the movie "Dutch Treat." The song would subsequently chart in the top 10 of numerous European countries.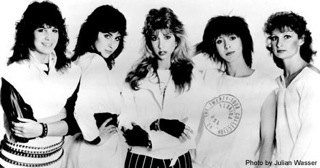 1987 saw shake-ups at Polygram, forcing the band to find a new home with Jem Records. A 4 track independent EP "Precious Metal" was recorded which received a limited release yet proved a popular seller on tour.
In 1988 the band signed a simultaneous recording deal with Savage Records, U.K. and Chameleon/Capitol Records worldwide and in the summer of 1988 began recording their third album "That Kinda Girl." Thanks to the simultaneous record deal, the album received alternate artwork for it's European release. A single "Moving Mountains," along with the album, garnered rave reviews from the UK press, while in the US, stand-out track "Sweet Sweet" earned the band a performance on Dick Clark's "Camp Midnight." A cameo in the feature film "Rich Girl" followed, all while extensively touring the US through 1989. Westwood One Radio would also feature a prestigious live radio broadcast of the band from Cincinnati, Ohio.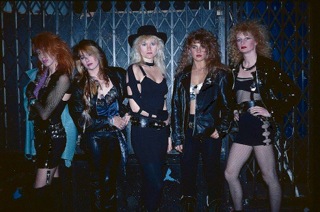 For the most part of the bands career Precious Metal's core five remained united through the turbulence of the music business and its pitfalls, but during the nine month pre-production for the bands soon to be recorded third album, bassist Alex Rylance decided to part ways. An extensive search produced Julia Farey, who entered the fold on bass and joined the girls in the studio to complete the bands third album and final studio album.
"Precious Metal" was released in 1990 (Chameleon/Capitol Records) following three months in the studio. The chosen single, a fun, hard rock version of Jean Knight's 1971 hit "Mr. Big Stuff", would enlist infamous real-estate mogul Donald Trump for it's accompanying music video. However, his likeness was eventually removed (due to monetary compensation disputes) amidst New York Post headlines reading "Trump Dumped!" Following the Trump fallout, the re-edited video garnered major MTV attention, while another track, an edgy remake of Bruce Springsteen's "Two Hearts", would receive praise from "The Boss" himself.
With the ever-changing music industry now turning its attention to alternative grunge and introspective singer songwriters in the early 90's, the girls decided to call it quits in 1992, but not before performing one last swan song; an unplugged set for Westwood One Radio. During their nine years together Precious Metal amassed an impressive catalog of over 70 original songs, toured the country extensively and received rave reviews for their blazing live shows. They made countless TV, radio, film and soundtrack appearances, and provided on screen cameos for "American Drive In", "Scenes From A Goldmine", "Cadillac Man", "Bad Guys" and "Rich Girl."
In 1997 guitarist Mara Fox was approached by Renaissance Records to release a compilation album "What You See Is What You Get, The Very Best of Precious Metal." The re-mastered CD featured 21 Precious Metal classics and included seven tracks never before available on CD. Today, thanks to a strong following of hardcore fans, Precious Metal continues to live through tribute websites and fandom. And after many years of battling the political hypocrisy found in a largely male dominated business, those chained and padlocked 'heavy metal' doors Precious Metal's stiletto heeled boots kicked down still swing from their hinges; allowing a slew of female artists to walk through.
On Saturday, October 25th, 2014, Precious Metal sans Mara Fox reunited onstage at The Mint in Los Angeles, for a breast cancer fundraiser in aid of ChemoWize.
Discography:
Albums:
"Right Here, Right Now,"(Mercury/Polygram – LP)- 1986 Producer: Paul Sabu.
"Precious Metal" (1987) (JEM – EP)-1987 Producer: Paul Sabu
"That Kinda Girl" (1988) (Chameleon/Capitol Records – LP) (Savage Record U.K.) Producer: Paul Sabu
"Precious Metal" (1990 (Chameleon/Capitol Records – LP) – Producer: Phil Kaffel (Cher, Sting, Meredith Brooks, Christina Aguilera), Co-Producers: David Resnick (Donna Summer, John Lee Hooker), Chuck Plotkin (Bruce Springsteen, Bob Dylan)
"What You See Is What You Get, The Very Best of Precious Metal" – 1998 (Renaissance Records – LP)
Singles:
Bad Guys
Moving Mountains
Mr. Big Stuff
Soundtracks:
American Drive In
Bad Guys
Scenes from the Goldmine
Dutch Treat
Cadillac Man
Rich Girl
Cameos On Screen:
Scenes From the Goldmine
Bad Guys
Rich Girl
Guests:
Cherie Currie (The Runaways), Brea Howard (Robbie Neville), Janna Allen (Hall & Pats), Nancy Wilson (Heart), Tom Peterson (Cheap Trick), Jimmy Wood, Charles Olins (Tina Turner), Peter Robinson, (Peter Gabriel).
The Band Members