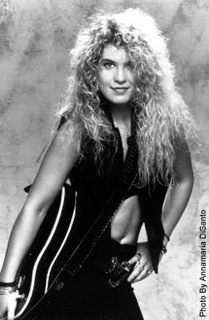 Music audiences around the world have seen and heard Janet Robin's incredible guitar work as a former featured touring member of the Lindsey Buckingham Band (from Fleetwood Mac), Meredith Brooks Band, and Air Supply. Her abilities as a guitarist have garnered the admiration of many in the music industry including Guitar World Magazine, where she was just recently named one of the "Top 10 Female Guitar Players."
She has shared the world stage with the likes of Tommy Emmanuel, Monte Montgomery, Peppino D'Agostino, Heart, John Waite, Colin Hay, and many more great artists. She was also the youngest, and only female student of the legendary guitarist, Randy Rhoads (Ozzy Osbourne's guitarist) for 6 years. With some of the aforementioned artists she worked with, she has appeared on The Tonight Show with Jay Leno, The Craig Kilbourn Show, and many European television shows.
Robin has also had songs placed in TV and Films such as "One Life to Live," "All my Children," "Felicity," "Free Enterprise," and many more.
With the help of her dedicated fan base, Robin was able to raise the funds ($20,000), for her latest studio effort, "Everything has Changed," with producer John Carter Cash (Johnny & June's son) recorded at Cash Cabin Studios in Nashville, showcasing her stunning guitar playing songwriting, and singing talents. Introduced to Hypertension Music (in Germany) by Colin Hay, Robin signed a European licensing and distribution deal with the German company who released "Everything has Changed" in January 2010 all over the EU. The album was then released in the U.S in May of 2012 via Big Fish Media Entertainment in Los Angeles. In May of 2013, she released her Mirst "live" CD, recorded in France on her European tour.
Ever the road warrior, Robin plays upwards of 150 dates per year focusing on the West Coast, East Coast, Texas, and Europe. In addition to being an artist, Robin conducts guitar workshops, is a respected clinician for Turner-­? Renaissance Guitars and Line 6, and is endorsed by Taylor Guitars, Fender Guitars, Martin Guitars, Clayton Picks, Turner-­? Renaissance, Seymour Duncan, Audix, DR Strings, and Alfred Music Publishing amongst others.