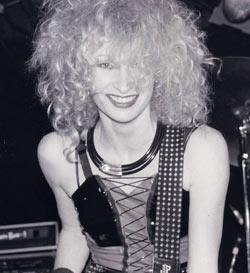 Bassist Alex Rylance, hailed from Wigan, the English home of Northern Soul.
Immigrating to the States after leaving school, she studied at the then newly opened Bass Institute of Technology in Hollywood, under Tim Bogart, (Vanilla Fudge), Steve Anderson, (Threshold) and Paul Farnen, (author of the Bass Fretboard Series).
Alex's first bass gig was with the legendary Filthy McNasty, as a member of his all-girl house band, playing at the iconic valley club of the same name. Filthy McNasty's (later FM Station) was the favorite watering hole for many of the music industry's shiniest stars, helping launch the careers of local bands such as Poison, Warrant, LA Guns and more. Filthy's after hours club is legendary. Alex joined Precious Metal in October 1983 and was instrumental in managing the band during its formative years.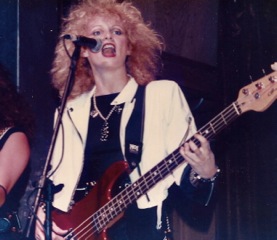 After leaving a decade later, she formed the Ya Ya's with singer Kelly Zirbes, producing a demo with composer and pop song arranger J. Peter Robinson (Phil Collins, Eric Clapton, Bryan Ferry, Melissa Etheridge). The quartet evolved into the blues/rock group Kelly's Lot, who Alex managed before retiring from music to raise her two children after her marriage to veteran editor H. Lee Peterson (The Little Mermaid, Aladdin, Madagascar).
Alex has been and is involved in numerous philanthropic causes. On the board of directors for The Center of Neurological Reprogramming, a home for non-ambulatory brain-injured children, for over 25 years she has raised hundreds of thousands of dollars, not only for CNR but also as a board member for California Contemporary Ballet Company, for whom she has produced numerous special events, such as the Descanso Gardens "Children's Ballet Theatre in the Woods" series. As the director of Bayer Ballet Academy, she produced many ballet performances. Alex has also created fundraising concerts such as the Annual PTA Palooza Bluegrass Benefit Concerts In Palo Alto, with featured guests including Grammy Award-winning artist, Laurie Lewis along with the Right Hands, The Tuttles with A.J. Lee, and Snap Jackson & the Knock on Wood Players.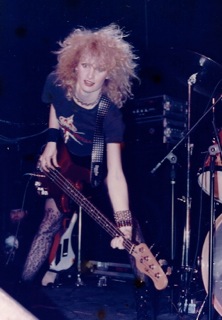 A breast cancer survivor herself, Alex had a double mastectomy and series of 10 chemotherapy treatments in 2011. She formed the non-profit group ChemoWize to raise funds specifically to help breast cancer chemotherapy patients recover from the on-going side effects of their treatments.
Alex reunited Precious Metal for the first time in over 20 years on October 25, 2014, at The Mint in Los Angeles for a breast cancer fundraiser, and continues to play with them at various venues in Southern California.