Julia Farey, originally a successful model whose national contracts include J.C. Penney and Depp Hair Jell, was also the bassist for Big Trouble before joining Precious Metal. Big Trouble was an all female pop group put together by TV executive Fred Silverman, who recorded one album and released a total of two minor hit singles.
Big Trouble made their start on the Mack & Jamie comedy show, whilst they would often appear as the "house band" on the series Comedy Break. The band signed to Epic Records in 1987, and recorded their first single – a Giorgio Moroder and Tom Whitlock track titled "All I Need is You".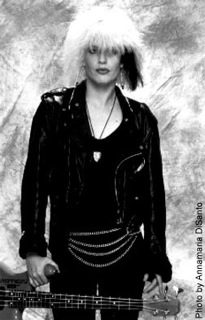 It was released as a promotional single, and featured in the film Over the Top, starring Sylvester Stallone. The song was included on the official soundtrack release, which was released during the same year.
The band then recorded their self-titled album Big Trouble which was released in 1988. The album was produced by Grammy and Oscar winner Giorgio Moroder, whilst various other producers featured on certain tracks alongside him. Moroder co-wrote both album tracks that were released as singles. Today, the album, although on CD and vinyl, remains out-of-print.
Big Trouble had one chart entry in America, the single "Crazy World", released in 1987. The song, written by Moroder and Whitlock, peaked at No. 71. A music video was filmed for the song.
A second single followed in 1988, the Moroder-Whitlock song "When the Love is Good", which was also taken from the self-titled album, and featured the non-album b-side "Last Kiss". The song peaked at No. 83 in the UK. A music video was filmed for the song. The band's final release was the 1988 CD maxi-single "Crazy World", released in the UK only, which was backed by the two album tracks "Say Yes" and "Trains and Boats and Planes". The release peaked at No. 96. As a result of the small success, the group dissolved soon after.
Julia Farey replaced Alex as bassist in Precious Metal, recording their final album "Precious Metal", released in 1990, and going on tour with them until their split that same year.
Big Trouble Discography
Albums
Singles