Canadian born vocalist, writer, guitarist and drummer Leslie Knauer was already a gold and platinum recording artist when she joined Precious Metal. 
Her previous band Promises, formed with her brothers Benny and Jed, had released two albums in Australia and New Zealand, containing several hits including the #1 platinum smash "Baby, It's You", covered in 2014 by the Australian band The Chantoozies, whose video includes appearances by Hugh Jackman, Eric Bana and Anthony LaPaglia.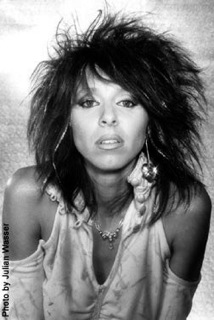 Leslie joined the Sunset Strip band Roxy Roller with guitarist Lizzie Grey, drummer Dane Rage, (both of London fame), and bassist Randy St. Clair. Roxy Roller recorded one single, a cover of Cole Porter's "Anything Goes".
When Promises disbanded, a solo deal with Capitol Records went south but only after Leslie penned "This Girl" with Joey Carbone and Ritchie Zito. "This Girl" was covered by the popular Dutch group the "Dollie Dots" and charted all over Europe.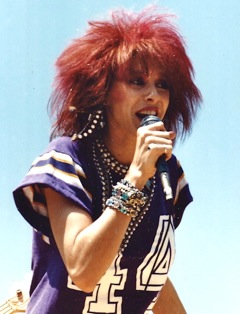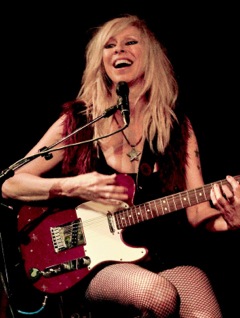 After answering Susette Andres' ad for female rock chicks, Leslie went on to record five more albums as the lead vocalist for Precious Metal, touring extensively with the band for the next 9 years.
Forming the power trio Kanary in 1996 as vocalist and guitarist, Leslie performed with bass player Mary Kay (She Rock, Dogs) and drummer Tony Matteucciy (Quiet Riot, Paul Shortino, Etta James). Kanary released five records before disbanding in 2008. Two Kanary tracks were used in the Dennis Hopper movie "Choke" (2000) – Kanary (Invincible) and Hullaballoo House , (Porno Church of The Ugly Man). The "Invincible" track "I Can't Even Think about Getting Married" was featured on the first Los Angeles Women in Music Compilation album (1999).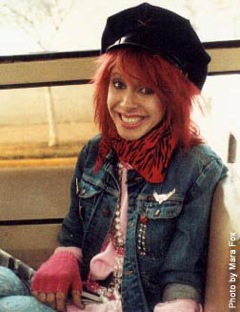 In 1997 Leslie joined Power Stripper as drummer/vocalist. She is currently vocalist and rhythm guitar player for Naked Hand Dance. Leslie has one daughter – actress, writer, blogger and producer Alexi Wasser – and lives happily in Hollywood with her husband Al TeMan.
Leslie also recorded two tracks for the Dennis Hopper movie, Choke (2001).
Discography:
Promises
"Promises"
"Real To Reel" On EMI Records
Precious Metal
"Right Here Right Now" On Mercury/Polygram
"That Kind Of Girl" On Chameleon/Capitol & Savage Records UK
"Precious Metal" On Chameleon/Capitol
"What You See Is What You Get"- The Very Best Of Precious Metal On Renaissance Records
Kanary
"Invincible"
"Porno Church Of The Ugly Man"
"Haunted"
"Only Dead Fish Go With The Current"