What is a Forbidden Riff?
There is a list of songs that are not allowed to play in guitar shops. This is called the Forbidden Riff. These Forbidden Riffs are not allowed because they cause problems for the guitar shop owners and sales assistants.
These beginner-friendly riffs are popular among guitarists who are just starting out or who want to improve their skills. It is easy to learn and master. This is why it often became overplayed in guitar shops and played poorly by beginners.
As I mentioned earlier, there is a list of songs that are repeated nonstop in guitar shops. An excellent example of Forbidden Riff is the Stairway to Heaven by Led Zeppelin. This song is one of the greatest rock songs in history.
The song has received a lot of good reviews. The guitar solo is also very good. The song has an excellent tune and melody. It is also very beginner-friendly, making it a great choice for beginners looking to learn how to play chords.
These tracks are particularly difficult for guitar shops to deal with since:
Every beginning guitarist learns them.
Every new guitarist believes they are the first to master them.
They are widely regarded as one of the most difficult chords to play. Every aspiring guitar player plays them horribly (but still searches for attention for their amazing skills).
The stores came to dread the songs because the same old riffs were being played over and over again. The players who belted out these riffs were also the least likely to buy something.
So, if you want to be taken seriously when you go guitar shopping, avoid these songs.
Where Did The Forbidden Riff Originate?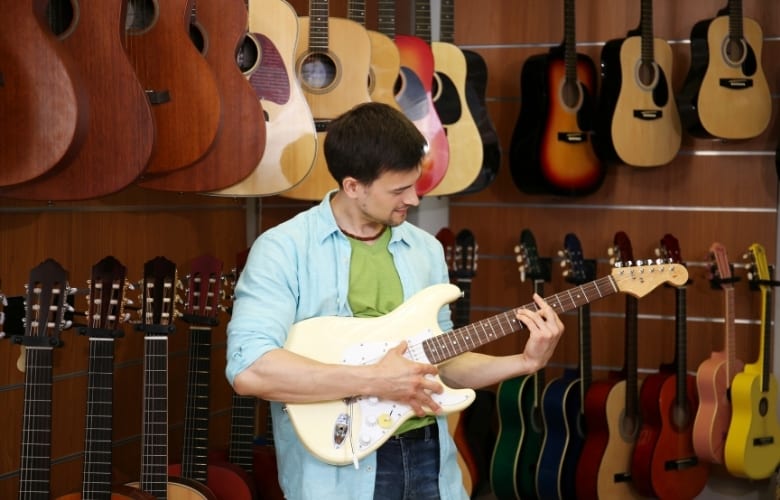 Some people think that the idea of the forbidden riff began in the 1970s as a joke among guitar players in London's famous Denmark Street.
Employees began to distribute lists of songs they couldn't listen to anymore from the (predominantly novice) musicians attempting out instruments.
Over time, the lists expanded as new and popular songs became the standard for novices to learn.
This list is made up of guitar solos that are often played by beginners. They play these solos to show off their skills, even though they may be new to playing music.
Many beginner guitarists played it multiple times, but they did not play it well. Shop owners who sell guitars noticed those beginner guitarists who play these riffs are not likely to buy other instruments in the store. This is why many guitar owners got tired of hearing these riffs and decided to ban them.
Many people are perplexed by these two terms. What is the meaning of this inside joke that is circulating among guitar retailers? Is it a joke that should be taken seriously or not?
It is rumored that the song "STAIWAY TO HEAVEN" is banned from guitar stores. Is this true? No, the song is not actually banned from guitar stores. It is highly unlikely that any guitar shop owner would expel customers merely because they were playing the opening of Stairway to Heaven. It's just a joke in the guitar world.
List of forbidden riffs in guitar stores:
1. Stairway To Heaven – Led Zeppelin
2. Smoke On The Water – Deep Purple
3. Iron Man – Black Sabbath
4. The House Of The Rising Sun – The Animals
5. Freebird – Lynyrd Skynyrd
6. Sweet Home Alabama – Lynyrd Skynyrd
7. Wonderwall – Oasis
8. Smells Like Teen Spirit – Nirvana
9. Back in Black – AC/DC
10. Crazy Train – Ozzy Osbourne
11. Seven Nation Army – The White Stripes
12. More Than Words – Extreme